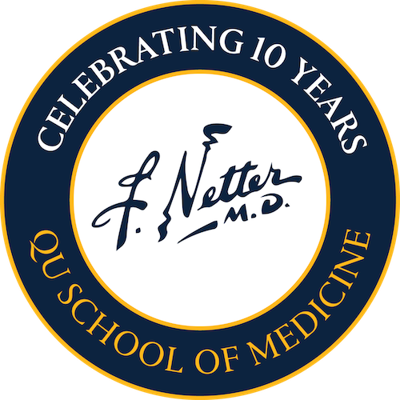 "What is your best memory about QU Netter?"
Organized by QU Netter School of Medicine
Time left to add your video:
Who is this for?
QU Netter School of Medicine 10th Anniversary Celebration
What are we doing?
A lot can happen in a decade, such as starting a brand-new medical school and graduating 7 outstanding classes of new physicians! As the Frank H. Netter MD School of Medicine at Quinnipiac University celebrates its 10th anniversary, we are chronicling the events of the first 10 years with an oral history podcast series, QU Netter: The First Decade. We interviewed 34 faculty, staff, leaders, and students and asked them all "What is your best memory of QU Netter."
Please record YOUR best memory of QU Netter! The responses from our community will be featured in upcoming podcast episodes released during the 2023-2024 academic year.
Please contact Katie.Lyons@qu.edu with any questions.
Questions to answer in your video
What is your best memory about QU Netter?
How do I record a great video?
Not ready to record?
RSVP and we'll remind you when the deadline approaches.
Know someone who deserves a Tribute?
Mark the date in your calendar and GET 20% OFF!